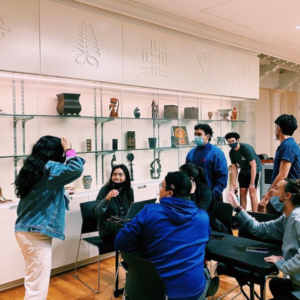 Adinkra is a cotton cloth produced in Ghana and Côte d'Ivoire which has traditional Akan symbols stamped upon it. The Adinkra symbols represent popular proverbs and maxims, record historical events, express particular attitudes or behaviors related to depicted figures, or concepts uniquely related to abstract shapes.
Adinkra also means 'goodbye' or 'farewell' in Twi the language of the Akan ethnic group of which Asante is a part. It has therefore been the tradition of the Akan especially the Asante to wear cloths decorated with Adinkra symbols on important occasions especially at funerals of family relations and friends. This is to signify their sorrow and to bid farewell to the deceased. Today, the Adinkra cloth is not exclusively worn by the Asante people; it is also worn by other ethnic groups in Ghana on a variety of social gatherings and festive occasions.
Adinkra Hall is situated on the 4th floor of Memorial Hall and is available to any campus departments and student organizations for meetings and/or programming. Reservations can be made through Campus Reservations, Events, & Technical Services by visiting https://tate.uga.edu/campus-reservations or calling 706-583-8020.