Reserving the Intersection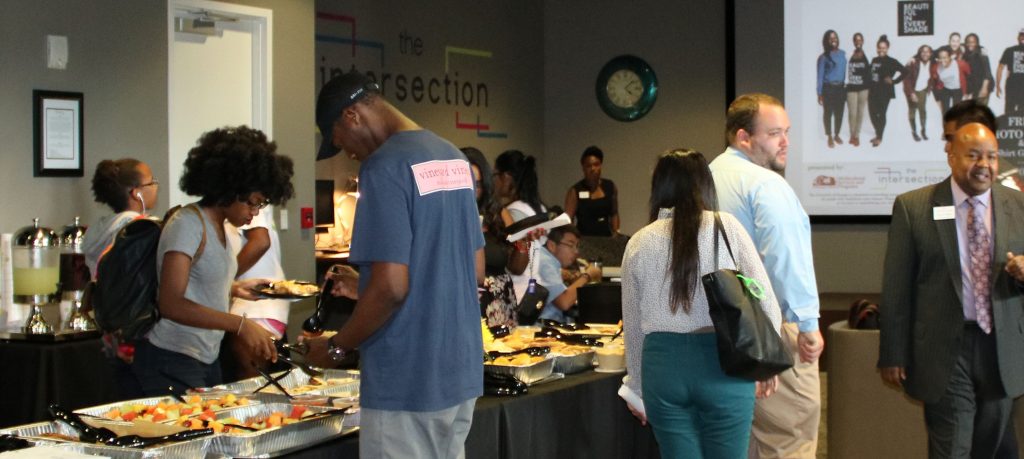 MSP staff are available to support the development/execution of your event. If this is your desire, you must request support in the reservation form.
Reservations are made on a first come first serve basis. MSP staff reserves the right to decline your reservation at any point in time. Reservation requests must be submitted at least 10 business days (Monday – Friday) prior to the event. If food is being served to 25 + individuals, the reservation must be made at least 15 days in advance. The Intersection is closed on game days.
To submit reservation requests, please review the guidelines below and complete the form that follows:
The Intersection space is free of charge.
The Intersection has three 6ft tables with 6 chairs each. Additionally, there is seating for up to 18 using the social rounds, individual chairs, and couches. The 6 foot tables and corresponding chairs are on casters and can easily be moved or reconfigured. Other furniture pieces should not be moved.
Reservations come with access to existing furniture in the space. Requests for additional furniture can be accommodated with a fee associated. For rates on added chairs, tables, podiums, etc. please visit http://reservations.uga.edu/
All tables and chairs must be returned to their original location. Failure to do so may result in charges.
The University is a smoke free environment. The use of tobacco products is strictly prohibited.
Use of candles and glitter are prohibited.
The facility reservation comes with the use of AV equipment. You must supply your own laptop and MAC adapter (where necessary).
Do not leave any personal items or equipment in the room. MSP will not be responsible for anything left in the room
Please do not use any type of adhesives on the walls. The chalk wall may be used to advertise future events or as an engagement component of your event. Occasionally, the chalk wall will feature campus artists and will be unavailable for use. Please inquire with MSP staff for the featured artists schedule.
We reserve the right to terminate the event at any time if security and/or manager see behavior that may threaten the facility.
Please do not remove any items (books, equipment, tables and chairs) from this space.
Room must be left in a clean and tidy state after use. Failure to do so may result in charges.
The person or organization reserving the space agrees to accept financial responsibility for any damages, including but not limited to, repairing or replacing broken items, cleaning, repainting walls, etc.
Report any damage to msp1@uga.edu immediately.
We reserve the right to deny or cancel future reservations if policies are not adhered to.
The Intersection Reservation Request
Please click HERE to submit a reservation request for the The Intersection.